Biology and
immunology
of malaria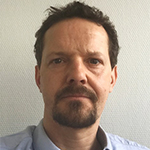 Our research aims to elucidate fundamental aspects of liver infection by Plasmodium, the agent of malaria, with the aim of identifying and validating new drug and vaccine targets.
Plasmodium is transmitted by a mosquito in the form of sporozoites, which infect the host liver for an initial cycle of replication.
Building on our expertise in sporozoite and liver stage biology and our discoveries of host and parasite factors that play a key role during infection, we are developing projects exploring the mechanisms of sporozoite entry, development of liver forms and hypnozoite formation, gene regulation during transmission, and immunity to liver stages of infection.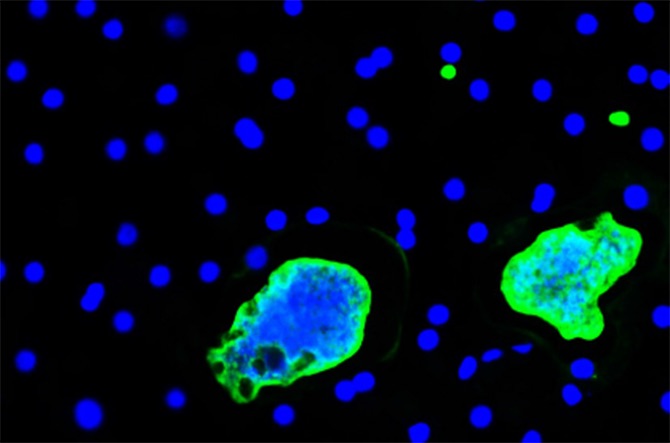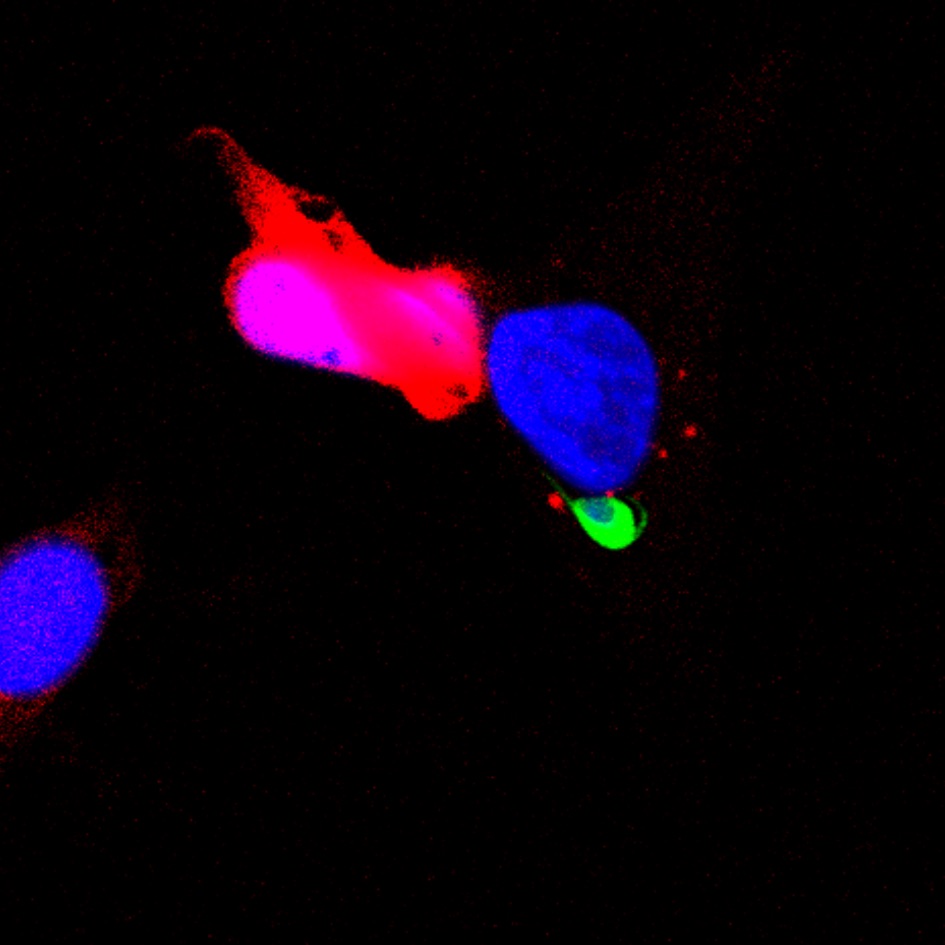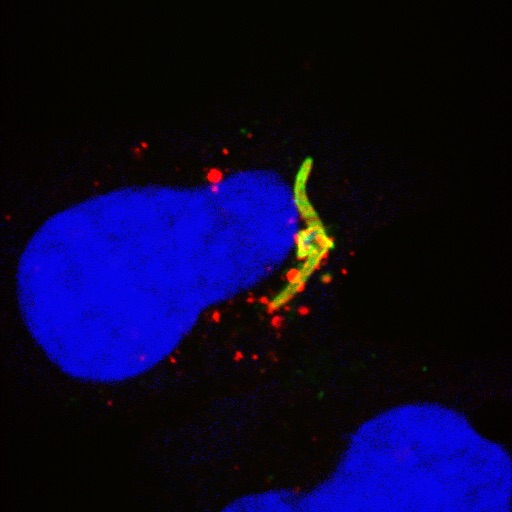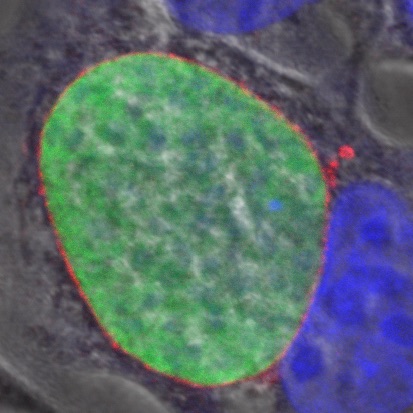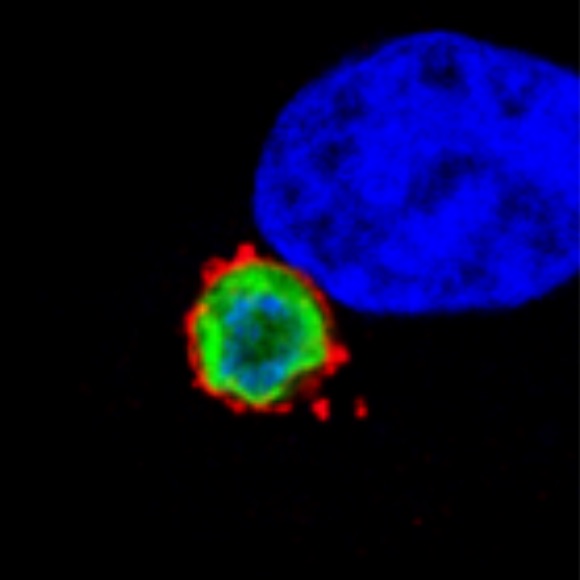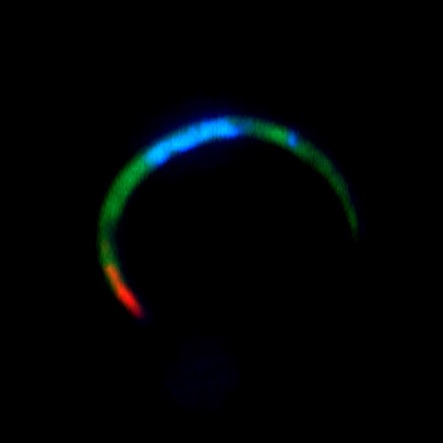 Our research contain 4 axes
Paludisme
Plasmodium
Sporozoites
Hypnozoa
Vaccine and medicines
1. Mechanisms of sporozoite entry into hepatocytes
An effective strategy to prevent initial infection at the liver stage is to interfere with the host-parasite molecular interactions that allow sporozoite entry into cells.
Our team has discovered cellular entry pathways and identified key host and parasite proteins involved in the entry process. Our aim is to elucidate the mechanisms of action of these molecular players and to evaluate potential targets for the design of new malaria vaccines.
To this end, we combine experimental genetic approaches and in vitro cellular models, using murine and human parasites.
2. Biology of hypnozoites
Some species of Plasmodium such as P. vivax produce dormant forms called hypnozoites, which can reactivate and cause relapses long after transmission by a mosquito. Our group has developed robust cell models for long-term in vitro culture of hypnozoites, and a humanised mouse model for in vivo studies.
These models are used to explore the mechanisms of dormancy and to search for compounds capable of killing hypnozoites or activating them for "wake and kill" strategies.
3. T-cell mediated cellular immunity against hepatic forms of Plasmodium
In mouse models, cytotoxic CD8+ T cells play a major role in protective immunity against hepatic forms of malaria. However, our knowledge of human immunity to the hepatic stages of malaria remains limited.
Furthermore, the nature of the protective antigens is still not defined.
Using transgenic parasites expressing human T-cell epitopes and robust in vitro and in vivo experimental systems set up in the laboratory, including humanised mouse and 3D cell culture models, we are investigating human CD8+ T-cell responses specific to hepatic forms of the parasite and looking for new protective antigenic targets.
Our ultimate goal is to identify correlates of protection, with potential implications for the design of next generation malaria vaccines.
4. Biology of tetraspanins
Tetraspanins are a family of evolutionarily conserved transmembrane proteins that play a key role in many physiological processes.
We discovered the role of CD81 and CD9 in muscle cell fusion during muscle regeneration, and showed that TspanC8 tetraspanins interact directly with the ADAM10 metalloprotease and regulate signalling via the ADAM10 substrate Notch.
Nous avons également contribué à définir le rôle de CD81 lors d'infections par Plasmodium et Listeria. Our work aims to understand the function of these proteins and their ability to organize a dynamic network of interactions at the cell surface.
The opportunities
New vaccine strategies against malaria
Screening of active molecules against hepatic forms of Plasmodium
Antigenic discovery, correlates of protection
Publications
1.
Manzoni G, Marinach C, Topçu S, Briquet S, Grand M, Tolle M, Gransagne M, Lescar J, Andolina C, Franetich JF, Zeisel MB, Huby T, Rubinstein E, Snounou G, Mazier D, Nosten F, Baumert TF, Silvie O. Plasmodium P36 determines host cell receptor usage during sporozoite invasion. Elife. 2017 May 16;6. pii: e25903. doi: 10.7554/eLife.25903. PubMed PMID: 28506360.
2.
Risco-Castillo V, Topçu S, Marinach C, Manzoni G, Bigorgne AE, Briquet S, Baudin X, Lebrun M, Dubremetz JF, Silvie O. Malaria Sporozoites Traverse Host Cells within Transient Vacuoles. Cell Host Microbe. 2015 Nov 11;18(5):593-603. PubMed PMID: 26607162.
3.
Dembélé L, Franetich JF, Lorthiois A, Gego A, Zeeman AM, Kocken CH, Le Grand R, Dereuddre-Bosquet N, van Gemert GJ, Sauerwein R, Vaillant JC, Hannoun L, Fuchter MJ, Diagana TT, Malmquist NA, Scherf A, Snounou G, Mazier D. Persistence and activation of malaria hypnozoites in long-term primary hepatocyte cultures. Nat Med. 2014 Mar;20(3):307-12. doi: 10.1038/nm.3461. PubMed PMID: 24509527.
4.
Soulard V, Bosson-Vanga H, Lorthiois A, Roucher C, Franetich JF, Zanghi G, Bordessoulles M, Tefit M, Thellier M, Morosan S, Le Naour G, Capron F, Suemizu H, Snounou G, Moreno-Sabater A, Mazier D. Plasmodium falciparum full life cycle and Plasmodium ovale liver stages in humanized mice. Nat Commun. 2015 Jul 24;6:7690. doi: 10.1038/ncomms8690. PubMed PMID: 26205537; PubMed Central PMCID: PMC4525212.
5.
Charrin S, Latil M, Soave S, Polesskaya A, Chrétien F, Boucheix C, Rubinstein E. Normal muscle regeneration requires tight control of muscle cell fusion by tetraspanins CD9 and CD81. Nat Commun. 2013;4:1674. doi: 10.1038/ncomms2675. PMID: 23575678.