Signalling and
Pathogenesis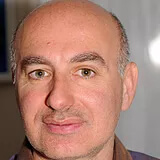 The Signalling and Pathogenesis team has been interested in inflammatory and immune processes since its inception, focusing on the NF-B activation pathway.
Research on the activation and regulation of the immune system is carried out at the molecular and cellular level, but also by using animal models and by studying clinical situations. Because of its homology to NEMO (an essential modulator of the NF-B pathway), our studies on the NF-B pathway have led us to focus on Optineurin which is involved in autophagy/Mitophagy.
By discovering new regulators of NF-B and Optineurin, our ambition is to better understand their function and deregulation in immune and neurodegenerative diseases respectively.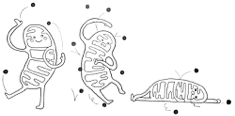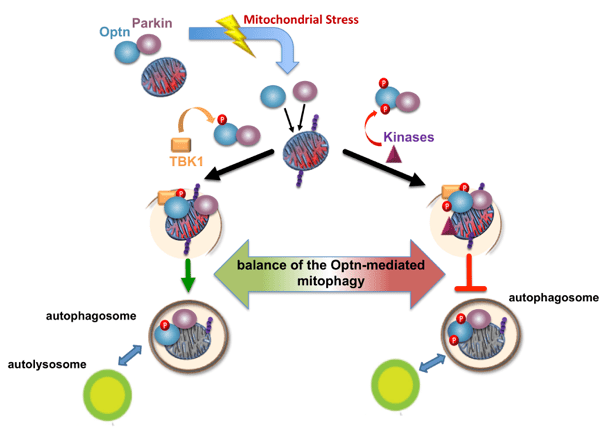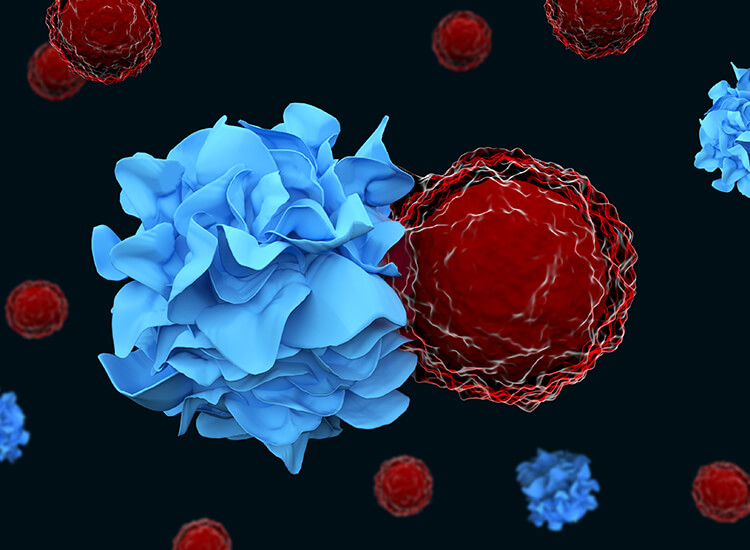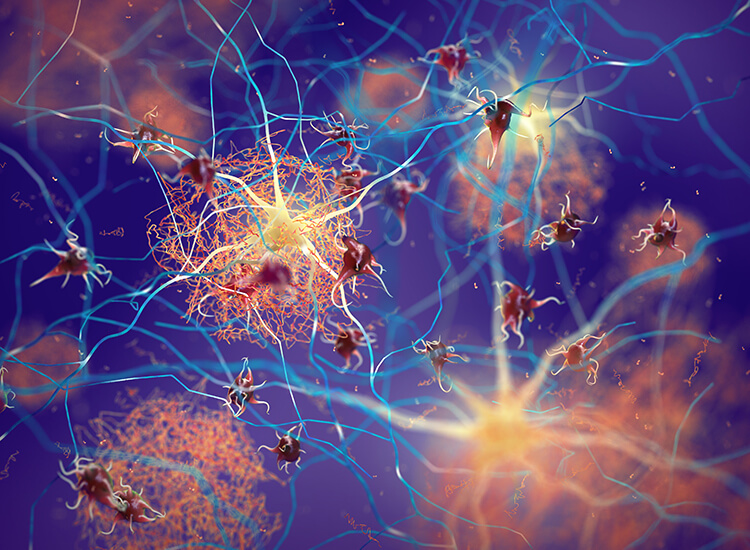 Our research focus on 3 axes
Adaptive immunity
NF-KB
Autophagy/mitophagy
Optineurin
COVID-19
Neurodegenerative diseases
1. Identification of a novel effector of the NF-B pathway induced by antigenic stimulation
Our study demonstrates that the E-Syt2 protein plays an important role in NF-B signalling in response to antigenic stimulation and in the differentiation of iNKTs, a subset of innate glycolipid-reactive T cells.
This protein establishes junctions between the endoplasmic reticulum and the plasma membrane to allow lipid exchange.
We are working on the hypothesis that E-Syt2 has a dual role in antitumour immunity to 1- enable iNKT activation through NF-B signalling and 2- present immunogenic lipids.
2. Role of the protein Optineurin in mitochondrial functions
The Optineurin (Optn) protein is involved in many distinct cellular processes such as secretion, cell cycle, antiviral immune response and selective autophagy.
Mitophagy (removal of mitochondria by autophagy) is deregulated in many neurodegenerative diseases and mutations in the Optn gene have been associated with these conditions, including Glaucoma and Amyotrophic Lateral Sclerosis (ALS).
Having identified a new regulator of Optn that inhibits mitophagy, we will explore the role of these proteins in the transport and disposal of mitochondria, and analyse how their dysfunction may contribute to the development of these neurodegenerative diseases.
3. Effect of an FDA approved drug on COVID-19
The search for a treatment for SARS-COV-2, which has killed more than 1 million people worldwide, is a public health issue.
Patients with severe forms of COVID-19 suffer from an exacerbated inflammatory response called a "cytokine storm" that can be fatal. A major challenge is to understand the mechanisms responsible for this acute inflammatory response and to develop an effective treatment for COVID-19.
We have found that a drug approved by the FDA is a potent inhibitor of NF-B and interferes with the entry of the virus into cells. We propose to study the mechanisms by which this compound controls viral replication, inflammation and allows the restoration of a natural defence mechanism against the virus.
We will also study the safety and efficacy of this compound for use as a treatment for COVID-19.
The opportunities
Tools for the development of therapeutic strategies against neurodegenerative diseases
Compound used as a treatment for COVID 19
Publications
1.
The FDA-approved drug Auranofin has a dual inhibitory effect on SARS-CoV-2 entry and NF-κB signaling. Laplantine E, Chable-Bessia C, Oudin A, Swain J, Soria A, Merida P, Gourdelier M, Mestiri S, Besseghe I, Bremaud E, Neyret A, Lyonnais S, Favard C, Benaroch P, Hubert M, Schwartz O, Guerin M, Danckaert A, Del Nery E, Muriaux D, Weil R. iScience. 2022 Sep 3:105066. doi: 10.1016/j.isci.2022.105066. PMID: 36093378 Free PMC article.
3.
K. Nabhane Said Halidi, E. Fontan, A. Boucharlat, L. Davignon, M. Charpentier, R. Weil, A. Israël, E. Laplantine* and F.Agou*(co-last authors)  CEP55 contains two novel NEMO-like ubiquitin binding domains, which play different roles in cytokinetic abscission. iScience (2019), 20: 292-309
7.
R.Weil. Does antigen masking by ubiquitin chains protect from the development of autoimmune diseases?  Hypothesis and theory, Front. Immunol (2014), 5: 1-13.
9.
R.Weil. Plk1-dependent phosphorylation of Optineurin provides a negative feedback mechanism for mitotic progression  Mol. Cell (2012), 45: 553-566.