Immunity
and Vaccination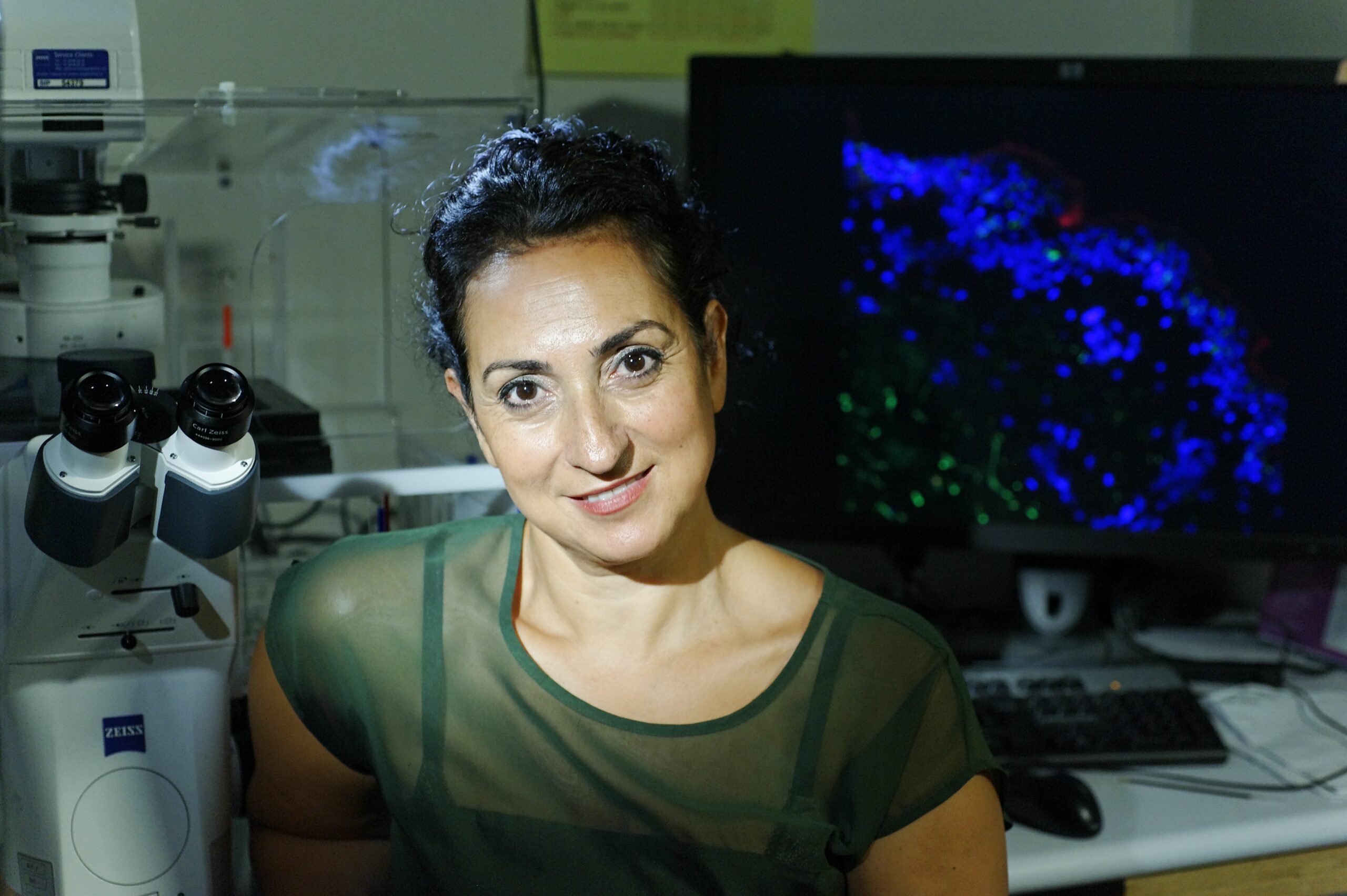 Vaccine efficacy is a major public health issue for protection against infectious diseases. Vaccinology is a multidisciplinary field that is now progressing towards the discovery of early biomarkers of vaccine efficacy in order to accelerate vaccine development. Humoral responses are considered as markers of efficacy of immune responses for protection but these responses are detected months after vaccination. However, immune responses to vaccines are heterogeneous and variable among individuals. This heterogeneity is due to several factors: 1) genetic factors, 2) factors related to the individual (immunological history, microbiota, obesity, age, chronic diseases, allergies etc.) and 3) the vaccination strategy (formulation, number of doses, injection site etc.). We are studying the impact of these last two factors on vaccine responsiveness.
The search for early biomarkers (hours/days after vaccination) is a key issue to predict the degree of vaccine efficacy that will 1) allow to rapidly refine vaccination strategies; 2) help to select at early stages several vaccine candidates and, finally 3) advance in the understanding of the complex biological pathways involved in the initiation of adaptive immunity.
We have recently demonstrated the major impact of the gene expression signature in blood before or 1 day after vaccine administration on the quality of adaptive immunity (humoral cells versus CD8 cytotoxic cells). Our objectives are to use biological data generated during clinical studies of several vaccines to propose mechanistic hypotheses and to identify candidate biomarkers of vaccine immunological efficacy.
Keywords : Immune mechanism – Transcriptome – Adaptive immunity – Biomarkers – Multiparametric cytometry (Spectral, cytof) – Innate immunity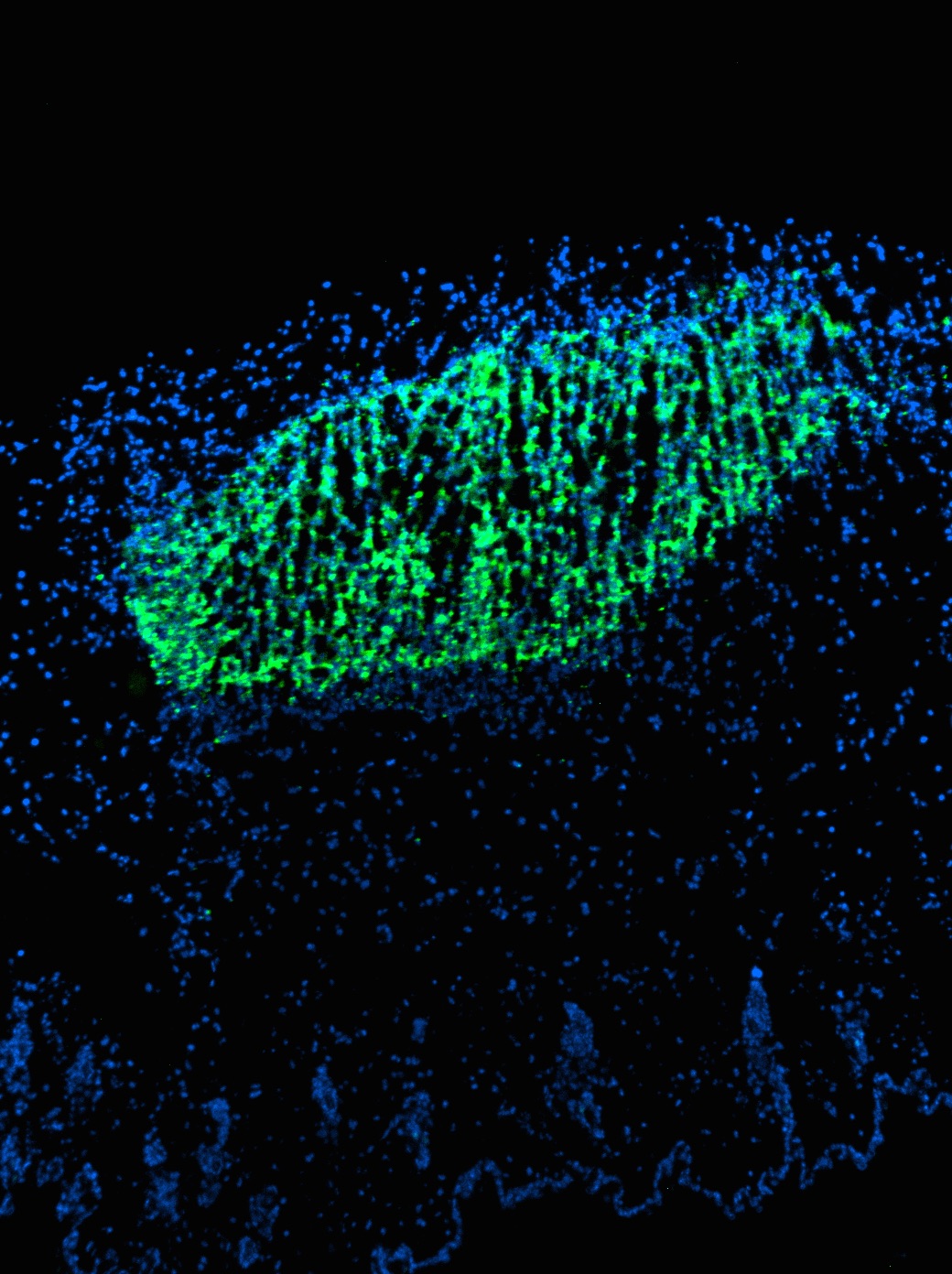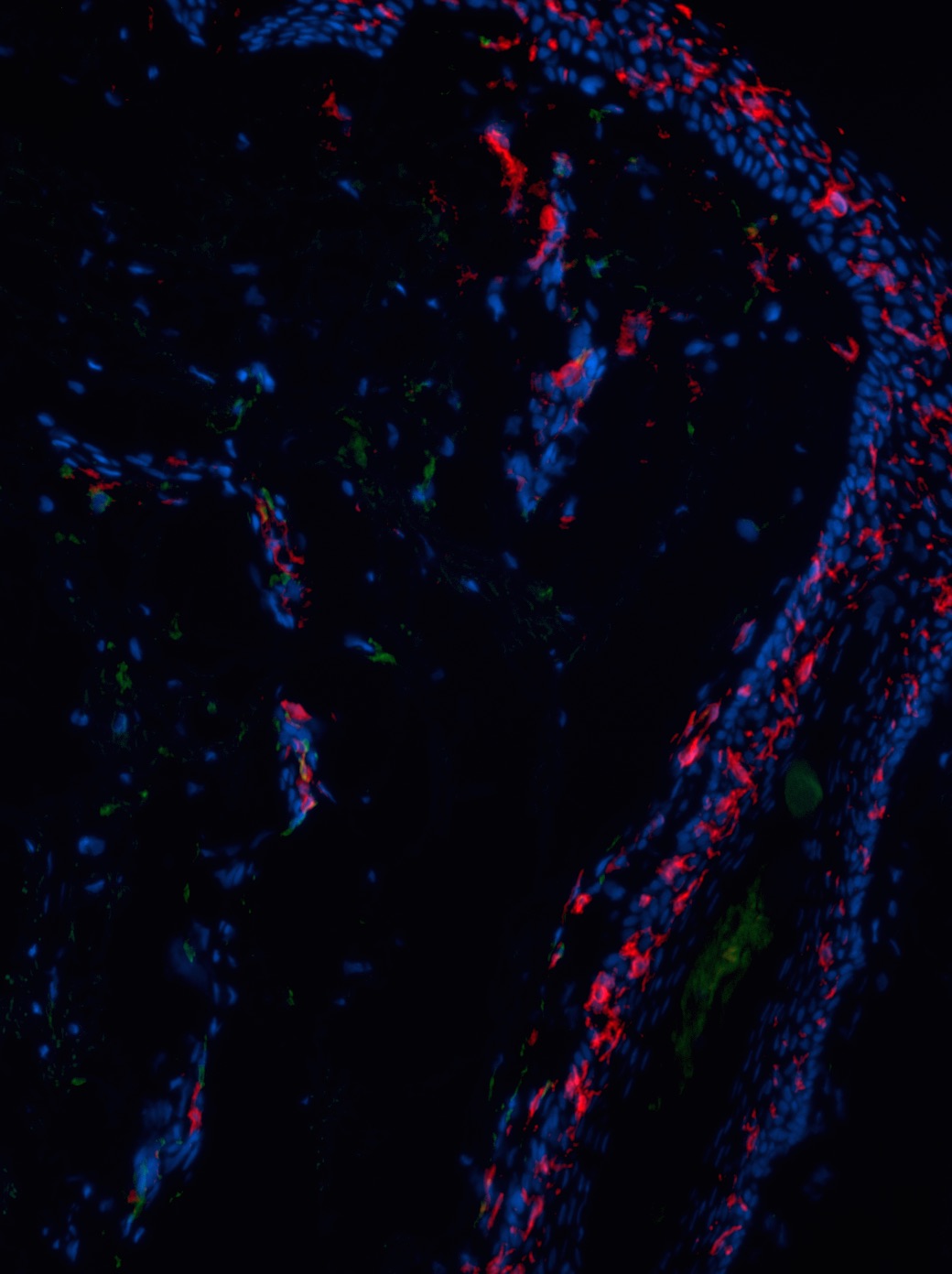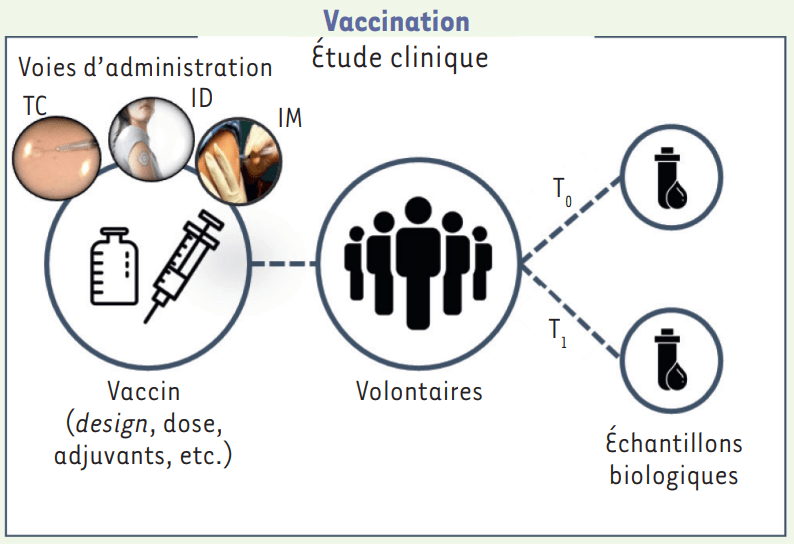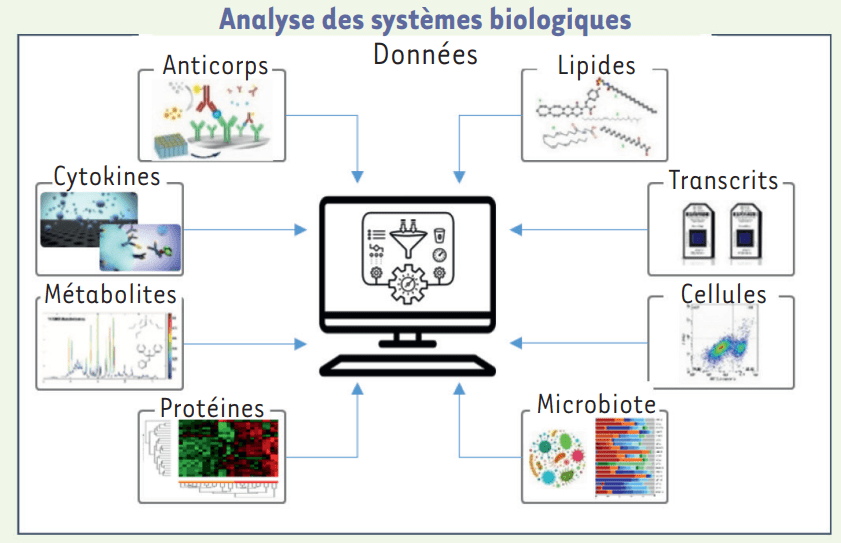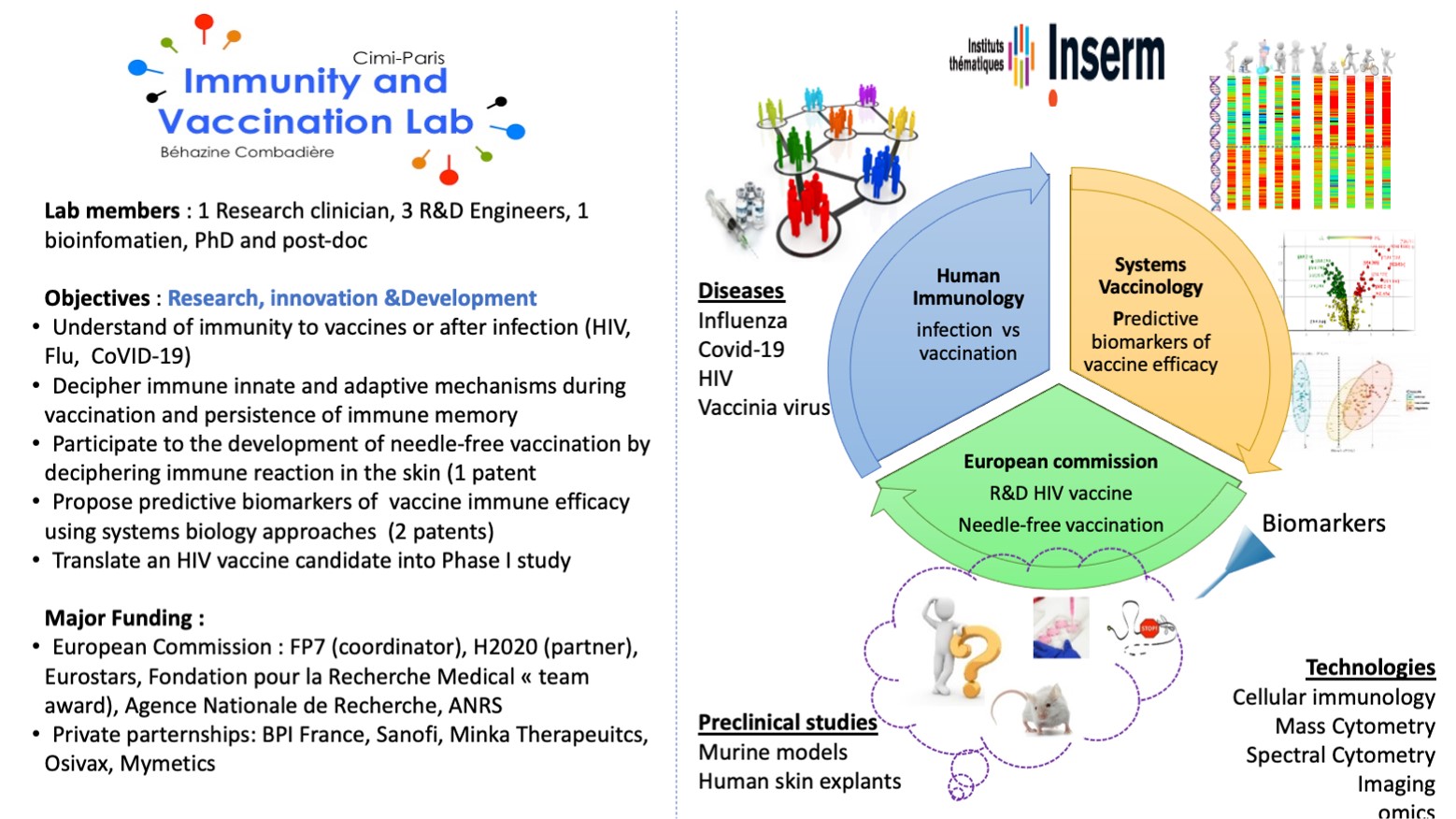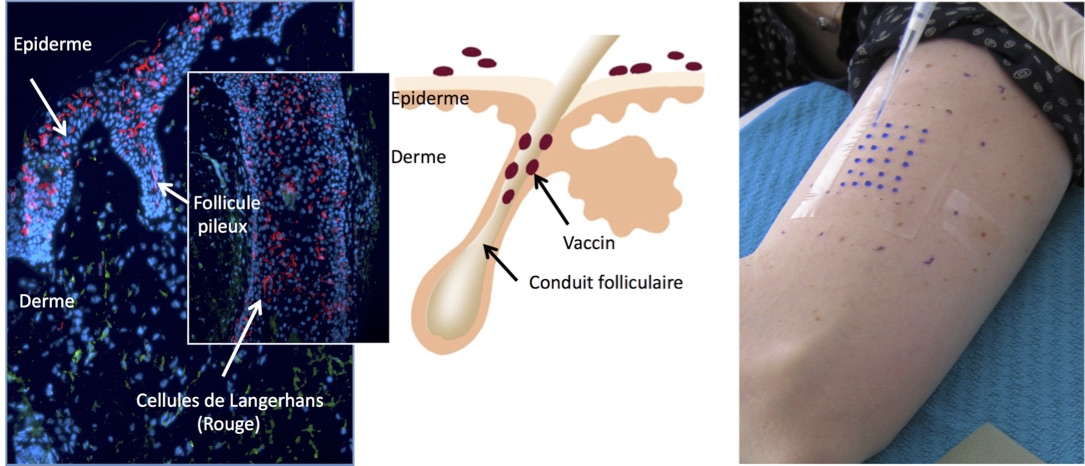 Our research focus on 2 axes
1. Generate and consolidate biological data after vaccination.
The objective is to study molecular and cellular immune networks in blood after vaccination (vaccines targeting HIV, Covid19, seasonal influenza) and determine their role in the induction of adaptive responses using systems biology approaches in human clinical trials. The program relies on a unique collection of data that will lead to the discovery of biomarkers as well as methodological approaches based on several clinical studies (2016-2022) in collaboration with national and European partners (H2020 project, FRM, Eurostars, BPI France).
2. Interpreting the early innate immune signature for the discovery of the mechanisms of the vaccine-induced immune response.
The objective is to increase our basic knowledge of innate immunity, which could predict the expected immune responses in most individuals after vaccination. We aim to find cellular and molecular biomarkers (data collected in axis 1) that dictate biological outcomes related to protection against infections. We use preclinical models to study the initial immune mechanisms linking early immunity to long-term protection against infection. This research program will accelerate vaccine development and measurement of its immune efficacy.
The opportunities
Immune mechanisms
Systems vaccinology
Biomarkers of vaccine immune efficacy
Phase I/II clinical studies
Preclinical murine models
Publications
1.
Combadière B, Adam L, Guillou N, Quentric P, Rosenbaum P, Dorgham K, Bonduelle O, Parizot C, Sauce D, Mayaux J, Luyt CE, Boissonnas A, Amoura Z, Pourcher V, Miyara M, Gorochov G, Guihot A, Combadière C. LOX-1-Expressing Immature Neutrophils Identify Critically-Ill COVID-19 Patients at Risk of Thrombotic Complications. Front Immunol. 2021 Sep, 20;12:752612. doi: 10.3389/fimmu.2021.752612
2.
Adam L, Rosenbaum P, Quentric P, Parizot C, Bonduelle O, Guillou N, CorneauA, Dorgham K, Miyara M, Luyt CE, Guihot A, Gorochov G, Combadière C, Combadière B. CD8+PD-L1+CXCR3+ polyfunctional T cell abundances are associated with survival in critical SARS-CoV-2-infected patients. JCI Insight. 2021 Sep , 22;6(18):e151571. doi: 10.1172/jci.insight.151571
3.
Del Campo J, Bouley J, Chevandier M, Rousset C, Haller M, Indalecio A, Guyon-Gellin D, Le Vert A, Hill F, Djebali S, Leverrier Y, Marvel J, Combadière B, Nicolas F. OVX836 Heptameric Nucleoprotein Vaccine Generates Lung Tissue-Resident Memory CD8+ T-Cells for Cross-Protection Against Influenza. Front Immunol. 2021 Jun, 10;12:678483. doi: 10.3389/fimmu.2021.678483
4.
Gonçalves E, Guillén Y, Lama JR, Sanchez J, Brander C, Paredes R, Combadière B. Host Transcriptome and Microbiota Signatures Prior to Immunization Profile Vaccine Humoral Responsiveness. Front Immunol. 2021 May, 10;12:657162. doi: 10.3389/fimmu.2021.657162
5.
Sanchez J, Goncalves E, Llano A, Gonzales P, Fernandez-Maldonado M, Vogt A, Soria A, Perez S, Cedeno S, Fernandez MA, Nourikyan J, de Bernard S, Ganoza C, Pedruzzi E, Bonduelle O, Mothe B, Gomez CE, Esteban M, Garcia F, Lama JR, Brander C, Combadiere B. Immune Profiles Identification by Vaccinomics After MVA Immunization in Randomized Clinical Study. Front Immunol. 2020 Nov, 10;11:586124. doi: 10.3389/fimmu.2020.586124
6.
Gonnet J, Poncelet L, Meriaux C, Gonçalves E, Weiss L, Tchitchek N, Pedruzzi E, Soria A, Boccara D, Vogt A, Bonduelle O, Hamm G, Ait-Belkacem R, Stauber J, Fournier I, Wisztorski M, Combadiere B. Mechanisms of innate events during skin reaction following intradermal injection of seasonal influenza vaccine. J Proteomics. 2020 Mar, 30;216:103670. doi: 10.1016/j.jprot.2020.103670
7.
Goncalves E, Combadiere B. Towards the discovery of an early molecular signature to predict the response to influenza vaccination. Med Sci (Paris). 2020, Jan;36(1):31-37. doi: 10.1051/medsci/2019266
8.
Vieillard V, Combadière B, Tubiana R, Launay O, Pialoux G, Cotte L, Girard PM, Simon A, Dudoit Y, Reynes J, Rockstroh J, Garcia F, Gatell J, Devidas A, Yazdanpanah Y, Weiss L, Fätkenheuer G, Autran B, Joyeux D, Gharakhanian S, Debré P, Katlama C. HIV therapeutic vaccine enhances non-exhausted CD4+ T cells in a randomised phase 2 trial. NPJ Vaccines. 2019 Jun, 3;4:25. doi: 10.1038/s41541-019-0117-5
9.
Gonçalves, E.; Bonduelle, O.; Soria, A.; Loulergue, P.; Rousseau, A.; Cachanado, M.; Bonnabau, H.; Thiebaut, R.; Tchitchek, N.; Behillil, S.; et al. Innate gene signature distinguishes humoral versus cytotoxic responses to influenza vaccination. Journal of Clinical Investigation 2019 Mar, 129, 1960–1971, doi:10.1172/JCI125372.
10.
Bonduelle, O.; Carrat, F.; Luyt, C.-E.; Leport, C.; Mosnier, A.; Benhabiles, N.; Krivine, A.; Rozenberg, F.; Yahia, N.; Samri, A.; et al. Characterization of pandemic influenza immune memory signature after vaccination or infection. Journal of Clinical Investigation 2014 Jul, 124, 3129–3136, doi:10.1172/JCI74565.
11.
Duffy D, Perrin H, Abadie V, Benhabiles N, Boissonnas A, Liard C, Descours B, Reboulleau D, Bonduelle O, Verrier B, Van Rooijen N, Combadiere C, Combadiere B.
Neutrophils transport antigen from the dermis to the bone marrow, initiating a source of memory CD8+ T cells. Immunity. 2012 Nov , 37(5):917-29. doi: 10.1016/j.immuni.2012.07.015
12.
Puissant-Lubrano B, Bossi P, Gay F, Crance JM, Bonduelle O, Garin D, Bricaire F, Autran B, Combadiere B. Control of vaccinia virus skin lesions by long-term-maintained IFN-gamma+TNF-alpha+ effector/memory CD4+ lymphocytes in humans. J Clin Invest. 2010 May, 120(5):1636-44. doi: 10.1172/JCI38506
13.
Vogt A, Mahe B, Costagliola D, Bonduelle O, Hadam S, Schaefer G, Schaefer H, Katlama C, Sterry W, Autran B, Blume-Peytavi U, Combadiere B. Transcutaneous anti-influenza vaccination promotes both CD4 and CD8 T cell immune responses in humans. J Immunol. 2008 Feb, 180(3):1482-9. doi: 10.4049/jimmunol.180.3.1482
14.
Vogt A, Combadiere B, Hadam S, Stieler KM, Lademann J, Schaefer H, Autran B, Sterry W, Blume-Peytavi U. 40 nm, but not 750 or 1,500 nm, nanoparticles enter epidermal CD1a+ cells after transcutaneous application on human skin. J Invest Dermatol. 2006 Jun, 126(6):1316-22. doi: 10.1038/sj.jid.5700226